Lowest Prices Ever!
Promotional Gifts USA sells imprinted promotional gifts products at bargain prices guaranteed, but that's not all. We offer promotional business apparel, promo key tags, key chains, personalized office products, printed drink beverage, imprinted paper bags, totes, and many more high quality personalized printed items to market or brand your company or business.
Wholesale prices customized promo products from Promotional Gifts are affordable for every budget. Don't be afraid to offer freebies at the next tradeshow. We offer personalized promotional economy pens and much more at the lowest prices so even the smallest company can afford to provide incentive giveaways for employees and customers.
Your company won't look cheap when you giveaway custom printed pens, noise makers, drinkware or T-shirts to thank your supporters for their business! Your customers will remember your name when they look at their free pen, magnet, calculator, post-it notes, bacpack, flash drives, water bottles or other custom branded promo item with your logo on it.
Remember we offer on price custom single color printing in one location and it is included in the price. Take your company to the next level, and don't pay more at a competitor; buy wholesale, economy custom printed gifts at Promotional Gifts USA today!
Promotional Products, Promotional Items and Promtional Gifts are used by companies for employee appreciation gifts, employee staff incentives.
How do we differ from other competitor Promotional Product Services?
In one word -- Price!
We guarantee we'll beat competitors prices by 10% and we're often 30% to 60% below others charge.
Promotional Gifts USA, Promotional Products and Gifts earns customer trust by providing quality products, fast delivery services and friendly customer service at the guaranteed lowest price. We're so passionate about saving you money that even if you choose not to use us... call us and we'll let you know whether the other promotional sites is charging too much.
Call Our Competitors -- Then Call Us. You'll see for yourself why our customers trust us with all their offers, quality and fast delivery. Promotional Gifts USA serves all US 50 States and Canada 24-hours each day, 7 days per week.
Ballpoint Pens, Emery Boards, Custom Calendars, Insulated Beverages, Coffee Mugs, Floating Keychain, Post-it Notes, Prodir Pens, Journals, Sheet Calendar, Adhesive Calendars, #1 Keytags, Power Banks, Custom Ponchos, Thermometers, Ice Scrappers, Ornaments.
"We keep your money in America and we support America Business First"
Featured Item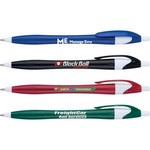 Javalina® Executive Pen
The Javalina® Executive pen is stylish and affordable. This push-action retractable plastic ballpoint is offered in four classic barrel colors and features a guaranteed ultra-smooth writing ink cartri...
$0.30 - $0.41